Tyler Stone Ranch, Le Flore County, OK.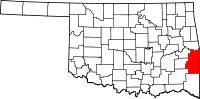 Tyler Stone Ranch is a gorgeous property located in Leflore County just west of Poteau Oklahoma. This location is just a short scenic drive north off of highway 271 and is graced with farmland and rolling hills in the distance.

Tyler Stone Ranch offers you the opportunity to overlook the beautiful scenery of bountiful trees and rolling hills which makes for a private, quiet location for those seeking off grid living or a lovely place to get away.