The Grand Canyon Land for Sale; Arizona is a state located in the southwestern region of the United States. Arizona is well known for its desert Basin and Range region in the southern portions of the state, which is rich in a landscape of xerophyte plants such as the cactus and its climate with exceptionally hot summers and mild winters. The state is less well known for its pine-covered north-central portion of the state's high country of the Colorado Plateau.
What Do Most People Do with Their Land?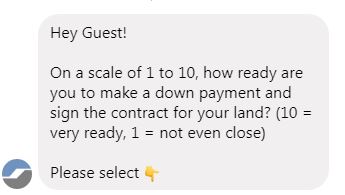 The Chatbot to the lower left on this page.
Chat with the Land Buyer Readiness ChatBot. Just use the Chat on the lower left side of this page and you will instantly be chatting with the Land Buyer Readiness ChatBot, who will evaluate your 1-10 answer and guide you to a suggested next step.