Trails End, Rock Castle County, KY.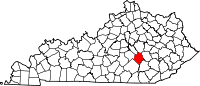 This beautiful land features open meadows and an assortment of mature trees. It's the perThis beautiful land offers rural living at it's finest with just the right amount of shady trees and open pastures. It's the perfect place to build that permanent home—either in the middle of one of the sweeping central Kentucky prairies or tucked in close to one of the many tree lines.

The unspoiled land, clean air, and mild climate make Trails End a true landowner's dream. And our no-hassle, guaranteed financing make this the perfect opportunity for you to own a small slice of the beautiful state of Kentucky.